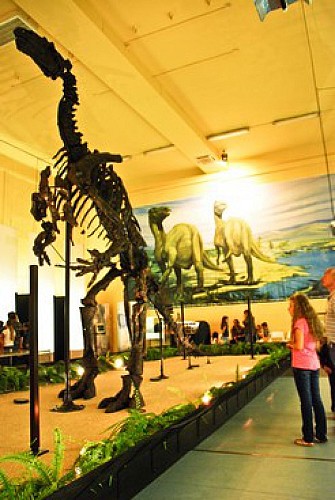 In 1878, miners discovered fossilized skeletons of iguanodons during the exploitation of the Bernissart coal mine (Fosse Sainte-Barbe).

The iguanodon is a large herbivorous dinosaur that lived in the Lower Cretaceous, between 128 and 125 million years before our era. Its name, meaning "iguana tooth", attests to the similarity of its crenellated jugal teeth with those of the current animal. 6 to 10 m long and weighing more than 4 tons, he walked on all fours but ran on two.

This discovery revealed a unique palaeontological site in the world: 29 complete skeletons and several skeletal elements were discovered there. It was the first time that so many complete dinosaur skeletons had been uncovered. These are on display at the Museum of Natural Sciences in Brussels.

In order to enhance its geological and palaeontological heritage, the Bernissart Municipal Administration, with the help of the Royal Institute of Natural Sciences of Belgium, has created the Bernissart Iguanodon Museum. A real fossilized skeleton of Iguanodon is presented there next to a mesosaurus (first marine reptile) and hundreds of other fossils classified by geological era.
Infos techniques
14 Rue Lotard
7320 Bernissart
Lat : 50.4759
Lng : 3.64997