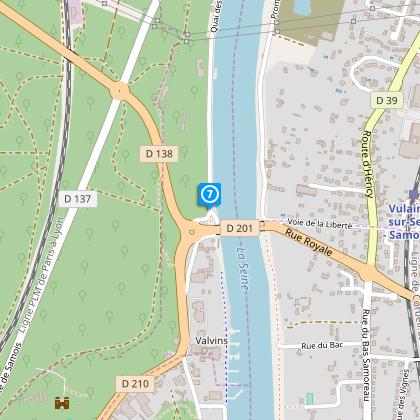 Arrival in the Pont de Valvins
- Upon leaving Samois, before reaching the Pont de Valvins bridge, turn left onto the road passing beneath the bridge (Route de Valvins).
- Follow this road until the stop sign at the secondary road intersection. Then turn right to reach the roundabout, where you'll take the first right to cross over the bridge. We recommend walking your bike over this busy bridge lacking a dedicated bike path.
- After the Pont de Valvins, continue a further 50 meters until the pedestrian crossing, to cross the road and retrace your steps.
- Before the bridge, turn right onto Promenade Stéphane Mallarmé and at the turn, take the towpath immediately to your left.
- Follow this towpath bordering the Seine through Vulaines, until you come to a clearing and the Grange aux Dîmes campsite in Samoreau.
Technical information
1 Quai des Platreries
77920 Samois-sur-seine
Lat : 48.4300691
Lng : 2.7442646
50 m