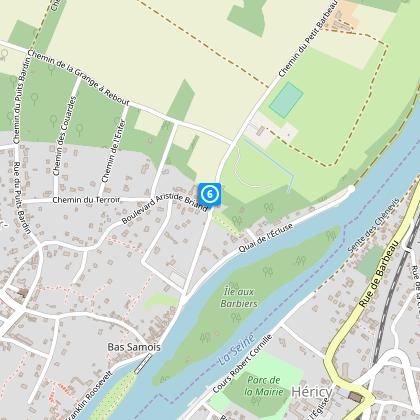 Pedalling through Samois-sur-Seine
- At the end of "Rue du Petit Barbeau", at the river port, you'll find this little village with its marina-like atmosphere, punctuated with restaurants, bars and flowered terraces overlooking the Seine and its barges.
- Continue straight on along "Quai de la République". At the end of the quay, at the stop sign, pass over the Seine via the footbridge to reach the Île au Berceau island, which hosted for nearly half a century the famous Django Reinhardt Jazz Festival (now held within the Fontainebleau Palace park).
- At the far end of the island, turn left onto Quai Franklin Roosevelt. Careful passing through the gate to leave the isle.
- Continue straight on along Quai Franklin Roosevelt, to enter the hamlet of Les Plâtreries. All along this section, admire the Affolantes of Samois: the town's extravagant holiday villas dating back to the Belle Epoque.
- Follow this road to the edge of town.
Technical information
7 Rue du Petit Barbeau
77920 Samois-sur-seine
Lat : 48.45437
Lng : 2.76003
46 m