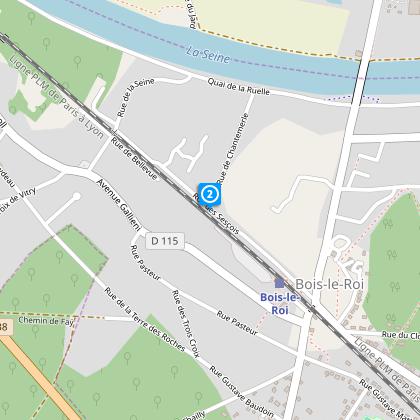 - After a hundred meters, take the first street on the right: "Rue de Chantemerle". Careful: this street descends rather steeply.
- At the bottom of "Rue de Chantemerle", turn right to reach the Seine River along Quai de la Ruelle, heading towards Fontainebleau. This quay allows you to admire the magnificently flamboyant villas known as "Affolantes" built along the banks of the Seine during the Belle Epoque period.
- Follow the multi-purpose path (for hikers and bikers) for a hundred meters, leading you back to the Seine quays on the other side of the bridge (thereby allowing you to avoid having to cross the busy secondary road). Upon leaving this path (careful: no gate), turn right onto Quai Olivier Métra in the direction of the UCPA recreational area.
- At the following intersection, at the river-dam footbridge, continue straight on along "Rue de l'Ile Saint-Pierre".
- At the end of "Rue de l'Ile Saint Pierre", turn right onto "Rue Demeufve".
- Then turn immediately left onto "Rue de Tournezy".
Technical information
2 Rue Chantemerle
77590 Bois-le-roi
Lat : 48.4776512
Lng : 2.6887965
77 m