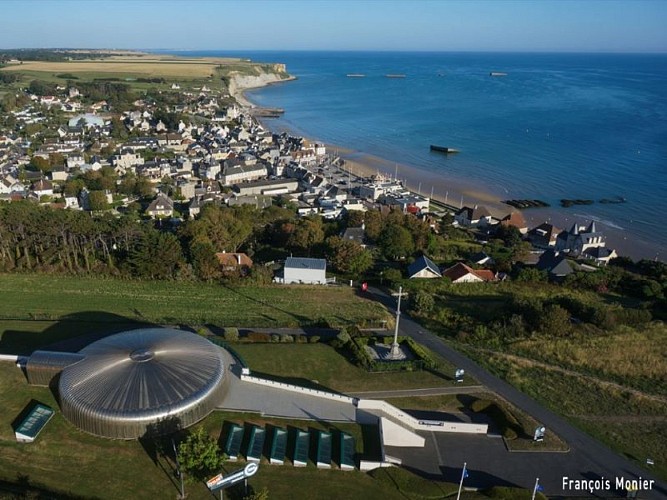 Arromanches 360 – Circular Cinema
Credit : Mémorial de Caen
"The 100 days of Normandy"

The images projected on nine screens stem from British, Canadian, German, American and French archives.

On both sides of the Channel, one was preparing for this longawaited moment. Then, in spite of unfavorable weather conditions, came the morning of June 6, 1944, the fi rst step towards the liberation of Western Europe. From the landings on the 5 beaches of the Manche and Calvados departments to the tragic bombing of
Le Havre on September 12, the Battle of Normandy lasted 100 days. Experience 20 minutes of pure historical intensity!

To improve the visitor experience, our reception area has been fully redesigned: maps, the chronology and the outcome of the Battle of Normandy are now presented. Several British military artifacts from the Caen Mémorial collection are also on display.

Film screened every 30 minutes, on the hour and at the half hour.
Commentary overlooking the artificial harbour from the cinema's terrace roof (30 minutes) during school holidays).
Technical information
Lat : 49.338758
Lng : -0.617833
0 m