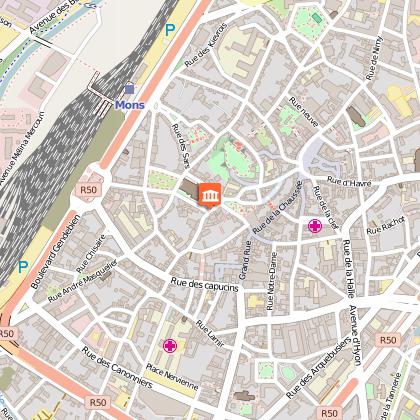 St Waltrude's Collegiate Church

The construction of the present collegiate church began in 1450 with the
chancel, which was finished around 1506. The transept was completed in
1527, and work on the nave lasted until 1621. Laid out in the form of a
Latin cross with 29 chapels around the main nave, transept and chancel,
this building is recognised as a leading part of Wallonia's heritage.


It was the private and personal church of the Saint Waltrude canonesses,
who had dreamt of crowning the west face of their collegiate church with
a 623 ft high tower. This tower, of which the first stones were laid
around 1549, was never finished, and work on it was finally abandoned
between 1686 and 1687.


Do not miss :


The Treasury : one of the most beautiful collections of religious
jewellery in Belgium.


The reliquary of St. Waltrude : one of them (la châsse) contains
the body of St. Waltrude and the other (le chef) contains her head.


The works of Jacques Du Broeucq (1505-1584): a master artist of
Emperor Charles V, he produced a Renaissance style rood-screen, of which
only statues and alabaster bas-reliefs remain, mainly visible in the
chancel and transept.


The oldest stained-glass windows : especially the five windows of
the apse, done by a master glassblower from Mons and given to the church
by the Emperor Maximilian of Austria in 1510-1511.


The sculptures : especially the statues in white stone of St
Michael thrusting down Satan (15th century) and of St. Waltrude (16th
century).


The Golden Coach : wooden vehicle painted and gilded in Louis XVI
style (1780/1781), used each year for the annual Procession of the
Trinity (Doudou).

Technical information
Place du Chapitre
7000 Mons
Lat : 50.453
Lng : 3.94812
0 m