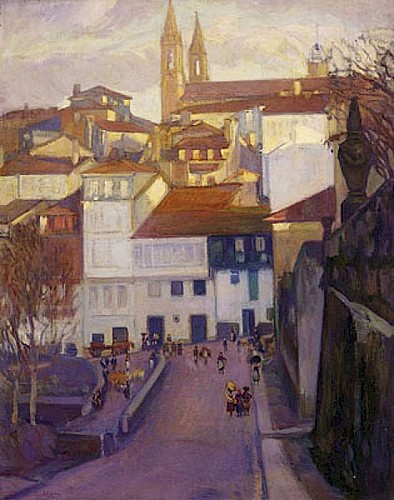 This oil painting, painted at the time when the painter Francisco Lloréns was living in Betanzos, is a view of the dawn of the city presided over by the towers of the church of Santiago and the municipal clock tower.

In the first place, it represents a street with people in the first activities of the morning; above these, the houses that pile up on the slope of the city. The sunlight, which stands out in the upper area, contrasts with the shady houses. The painting breathes a humid atmosphere of dawn. This area of the Biosphere Reserve is part of the "As Mariñas Impressionist Route", declared a European Cultural Itinerary by the Council of Europe in 2019.

Technique: Oil on canvas
Dimensions: 100 x 81 cm.
Abanca Collection.
Technical information
Lat : 43.2791386
Lng : -8.2110529