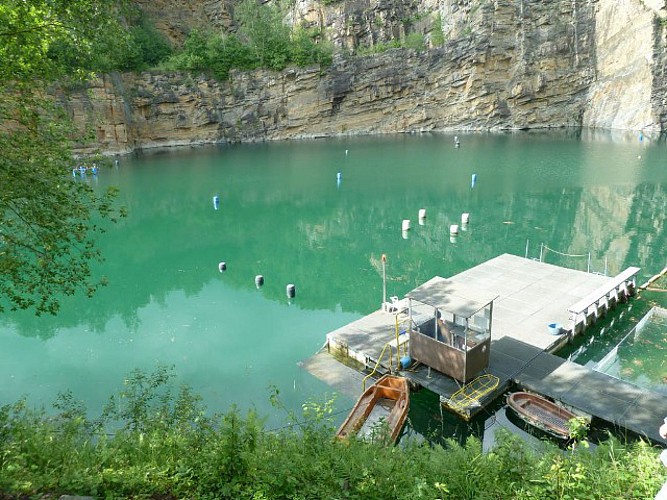 The Gombe quarry was formerly exploited for the production of sandstone ashlars but is currently used as a diving centre by the Centre Liégeois d'Activités Subaquatiques (C.L.A.S).

The sandstone from the Gombe quarry is a sedimentary rock formed by the accumulation and compaction of silica grains that were deposited in the area 360 million years ago. This rock is abundantly used in our region for the production of aggregates (used for concrete or roads) and dimension stones (construction materials).

Two kilometres from here, the Anthisnes wood quarry currently exploits this same strip of sandstone. In the video, you will find an explanation of the production process for aggregates and ashlar.

Historic village buildings often bear witness to the nature of the bedrock; for example, the houses in Esneux are made of sandstone while those in Tilff are made of limestone rubble.
Many of the streets of Liège are covered with sandstone paving stones from the Gombe-Montfort quarries.
Technical information
2 Chera de la Gombe
4130 Esneux
Lat : 50.5088
Lng : 5.56603