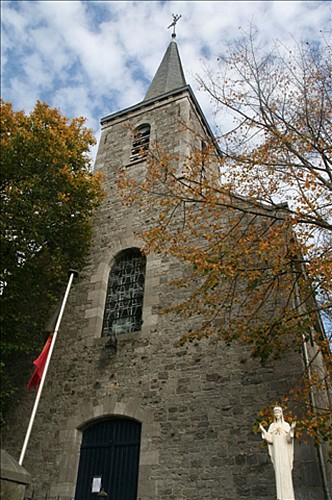 Wavreille - The village church
This walk starts from the village church.

Etymologically, Wavreille means small marshland, and there seems to be a logical explanation for the name.
The village is settled in a basin, surrounded by a border reminiscent of the steps of an amphitheatre and, to the west, an indentation toward the Lesse and the Caves of Han. There are cracks everywhere caused by the geology of the area. It is quite possible that Wavreille was once an immense lake.

The Neo-Gothic style church was rebuilt in 1783 and enlarged by pushing back the choir and adding a sacristy. The last transformations date from 1883. It was however repainted in 1987. Right next to it is the old presbytery built in 1657 (as indicated by a Latin chronogram), with the statue of Our Lady of Beauraing in front of it.
The profession of quarry-worker was common in Wavreille. In the local quarries, massive blocks of greyish-blue stone were extracted using a winch that pulled a cable. As of 1850, the stones from Wavreille were used to fill up roads and build many of the houses in the area. The church of Saint Pierre was built with grey stones with bluish veins extracted from the local quarries.
Technical information
1 Rue du Patronage
5580 Rochefort
Lat : 50.1211417
Lng : 5.2484412