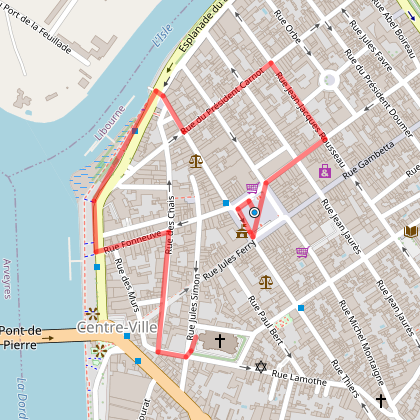 LIBOURNE AN ENGLISH PORT AND BASTIDE TOWN
Libourne is a royal bastide (a planned new town) created in 1270 under the orders of King Henry II of England.
He was the knight Sir Roger de Leyburn, recently promoted to the honorary position of the King's Lieutenant, who was tasked with its
construction on the very site of the ancient Gallo-Roman port of Condatis.
Over the centuries, Leyburn underwent Gallicization and became Libourne.
Libourne, located at the confluence of the Isle and Dordogne rivers, in the upper reaches of the Gironde Estuary, has the unique
characteristic of being the foremost shipping port on the Dordogne, nearly 100 km inland!
This unique location bolstered its imports and exports and the development of a flourishing trade, in which wine predominated.
As a consequence it is one of the wealthiest bastide towns in Aquitaine.
In the Middle Ages, a bastide was a new town. These new towns were built to facilitate commercial and agricultural trade, bring together
the population and assert one's presence in the region.
Within its ramparts, penetrated by six gates on the river side and three on the land side, it developed over 32 hectares, half of which
were used for agriculture.
After the Hundred Years' War, the town had more than 530 houses, a wonderful town hall rebuilt at the end of the 15th century, two
churches, a Cordeliers' convent and two hospitals.
In the 18th century, the town began to expand outside its walls, works were undertaken on the site of the moats to create avenues,
and glassworks were established in 1749.
During the 17th and 18th centuries, the wealth generated by the wine trade enabled high-grade buildings to be constructed.
The town prospered over the 19th century: Libourne would construct its rail station, repair the slipways in its harbor and span its rivers
with two bridges.
Libourne also owes its reputation thanks to illustrious characters, including the Duke Decazes, minister to Louis XVIII, Jules Steeg,
a pastor and politician, or the painter René Princeteau.
It was also the birthplace of the photographer Eugène Atget and the jurists Léon Duguy and Jean Carbonnier.
Starting from a confluence, the town itself became a confluence - of rivers, lands, languages and people.
Today, it opens its gates to you, and it is you who will delve into its unique history.
1.5 km

max. 10 m

min. 5 m

4 m

-6 m

Altimetric profile
Starting point
34 Place Abel Surchamp
33500 Libourne
Lat : 44.91482
Lng : -0.24492

42 Place Abel Surchamp 33500 Libourne
Lat : 44.914815
Lng : -0.244923

34 Place Abel Surchamp 33500 Libourne
Lat : 44.914895
Lng : -0.24531

2 Place Abel Surchamp 33500 Libourne
Lat : 44.91455
Lng : -0.245041

2 Place Abel Surchamp 33500 Libourne
Lat : 44.914477
Lng : -0.244982

40 Rue Jean Jacques Rousseau 33500 Libourne
Lat : 44.916734
Lng : -0.244199

21 Rue Victor Hugo 33500 Libourne
Lat : 44.91608
Lng : -0.246463

7 Rue Victor Hugo 33500 Libourne
Lat : 44.916445
Lng : -0.246763

3 Quai des Salinières 33500 Libourne
Lat : 44.916703
Lng : -0.247064

21 Quai Général d'Amade 33500 Libourne
Lat : 44.915024
Lng : -0.248394

40 Rue Fonneuve 33500 Libourne
Lat : 44.914565
Lng : -0.24679

16 Rue Lamothe 33500 Libourne
Lat : 44.912734
Lng : -0.247026

52 Rue Jules Simon 33500 Libourne
Lat : 44.912962
Lng : -0.246205