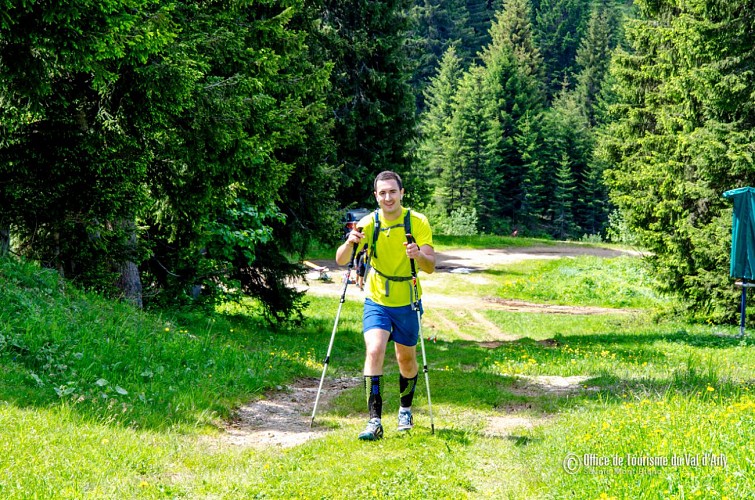 Round trip to a little known summit between Aravis and Beaufortain, particularly aesthetic that will lead you to a 360 ° panorama!

From Plan parking, head towards the CRÉPINIÈRE. Leave the road and take the path on the left that goes along a farm towards LA STAVANE (1550m), continue LE LEUTA (1755m) where you expect a flat at the chalets, then finish on the steep climb to reach the summit LE GRAND CROISSE BAULET (2236m).
Return by the same route.

POINTS OF INTEREST:
- At the top of Croisse Baulet, the view is absolutely grandiose, soft towards the Savoie, dizzying on the other side
- The panoramic view of the Mont Blanc massif
- Characteristic landscapes of the territory: undergrowth, spruces and small alpine farms
- Passing through the Jaillet Pass you can admire one of the only traces left by the Romans and discovered in 1963, a Roman milestone (dating between 125 and 14 BC) marked "FINES" (border in Latin).
4.2 km

max. 2196 m

min. 1227 m

958 m

958 m

Altimetric profile
Starting point
1262 route du Col des Aravis Chef-lieu
73590 La Giettaz
Lat : 45.86256
Lng : 6.494762
5 informations complémentaires
Open period
From 01/06 to 31/10.
Reception conditions for animals
Pets allowed on a leash only.
Location complements
Departure: the Plan parking (1220 m). On the D909 between Flumet and the Col des Aravis in the Giettaz (direction uphill) turn right towards Le Plan (access ski area). If no place in the Plan, park at La Crepinière.