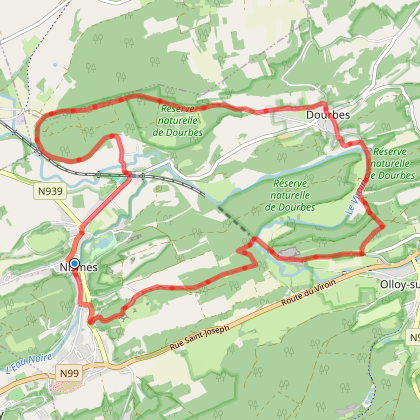 NISMES - Wildwater Country
Who could imagine walking these southern paths on foot? This surprising walk will transport you to the Land of "Whitewater".

Welcome to the South of Wallonia, in the village of Nismes. Here, the sun heats the limestone soil and creates an abundance of incredible flora including wild orchids, unusual mosses and insects. The ecosystem and biodiversity in this nature area earns its spot among the richest in the world with a botanic wealth of up to 60 kinds of plants per m². Around the "Bois de la Tienne aux Pauquîs" you will also find large pines. Shortly after the village of "Dourbes", follow the "Viroin valley". The river runs so pure and clear and the banks of alder trees are followed by beautiful clearings lined with grass. As you progress through luminous forest, enjoying the panorama of "La Roche aux Faucons", with luck you will see the "Three valleys" steam train appears in the landscape. As you approach "Nismes", discover the unusual site of "Fondry des Chiens". This natural sinkhole is teeming with biodiversity and its own mythical legend – the wandering knight! During this hike, you take paths to Santiago de Compostela.
15 km

max. 250 m

min. 150 m

574 m

-574 m

Altimetric profile

Accessibility
Lodgings nearby