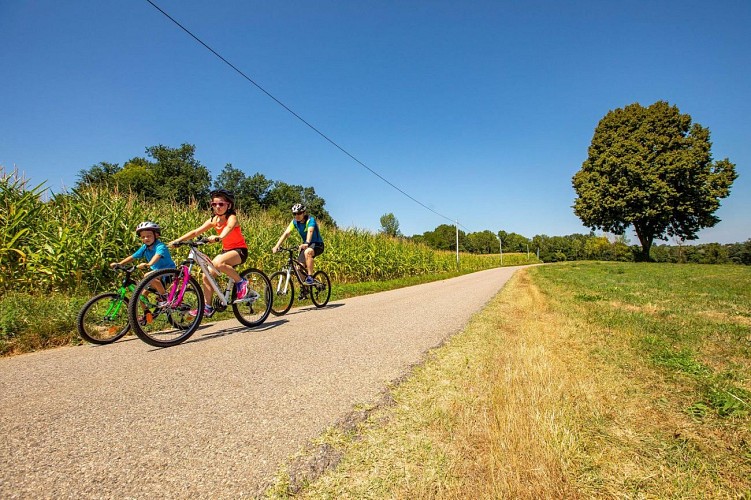 e-bike roadbook : La Vaulserre
Beautiful wooded valleys and panoramic views on the lands of Vaulserre. Start and return from the tourist office of Pont de Beauvoisin. 25 km.

Departure / Arrival :
From the Vals du Dauphiné tourist office - Pont-de-Beauvoisin.
Bycicle tourist: with regard to parking facilities, you can consider a departure from the school / town hall / church of St Jean d'Avelanne (20km) or from the SNCF train station in Pont-de-Beauvoisin (bikes are permitted in the TER), 23km.

Between softness and vitality, Vals du Dauphiné's hills are an ideal playground for family walks or hikers along the river as in the forest. You will certainly enjoy the views of the Bugey, the Chat, the Epine and the nearby Chartreuse! Adobe houses, turtoiseshell tiles, castles and fortified houses ensuring the border between the ancient kingdoms of France and Piedmont Sardinia punctuate the landscape.
26 km

max. 570 m

min. 251 m

453 m

447 m

Altimetric profile

Accessibility
Starting point
21 25 Place de la République
38480 Le Pont-de-Beauvoisin
Lat : 45.535932
Lng : 5.671443

Vaulserre Castle
Old fortified house remodeled in the 18th century. Vaulserre presents...Read more
Lat : 45.505174
Lng : 5.700423
289 m

Train station of Pont de Beauvoisin
Pont de Beauvoisin tarin station is located on the line Lyon / Chambéry...Read more
Lat : 45.524701
Lng : 5.680761
0 m

Saint Albin de Vaulserre's sight spot
From the church of St Albin de Vaulserre, enjoy a 120° view of...Read more
Lat : 45.505229
Lng : 5.700763
310 m
5 informations complémentaires
Open period
All year round.
See opening hours of the tourist office. E-bike rental possible at pont de Beauvoisin.

Subject to favorable weather.
Reception complements
Electric bikes can be rented upon reservation from the tourist office between September and mi-June.
Tricky passages
Detailed itinerary available at the tourist office or in a PDF version on tourisme-valsdudauphine.fr E-bike rental from the tourist office in Pont de Beauvoisin.