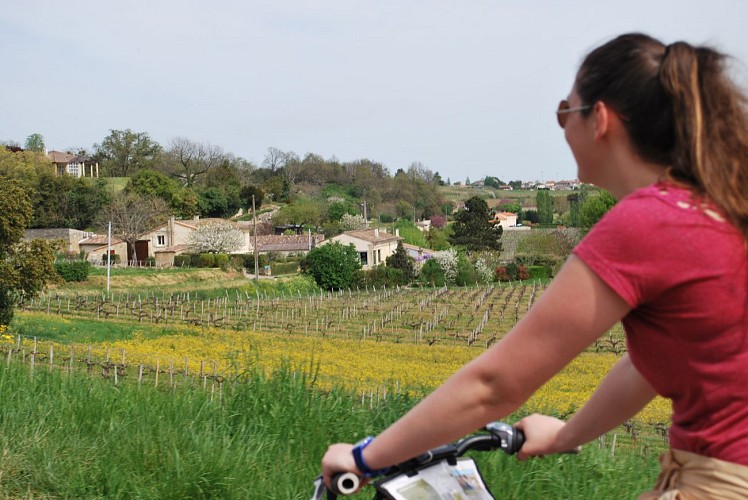 Organic wine tour & bicycle #1
Start from the Tourist Office of Bourg
After you leave the Tourist Office, pass the church Saint Géronce, and go up the street of "Général Peychaud". Join on the left the "Cambes" road, cross the hamlet and continue until the panel "Give way".
Turn left and go down on the Corniche road. Pass in front of the old Brouette cellars, producer of crémant (sparkling wine). Continue straight ahead, until Bayon's church. You have the possibility to go to the Château Lamblin, Organic wine producer.
Just before the church, turn right. Caution, walk next to your bicycle and take the street in prohibited direction on 150 meters, and that until the stop sign.
Caution with the traffic.
Cross the road D669 until the Château Falfas. It is possible to taste their biodynamic wines.
Continue until the Château de Côts, organic wine producer. After the Château, at the intersection, turn left on the street "Chemin des vignes". Continue straight until the D669.
The Château Puy D'Amour, organic wine, is on the right.
Turn left, and climb on the 1st road on the right, to Château Les Rocques. At the top, continue straight and down until the "Pain de sucre".
Take on the left the Corniche road, and come back by the same way you took at start until the Tourist Office. For that, turn right after the old Brouette cellars, at the panel "Circuit de l'etuaire".
10 km

max. 68 m

min. 4 m

32 m

-53 m

Altimetric profile

Accessibility
Starting point
6 Place de la Libération
33710 Bourg
Lat : 45.0392
Lng : -0.55872
0 m

Tourist Office
The Tourist Office of Bourg is labeled for "Tourism and handicap"...Read more
Place de la Libération 33710 Bourg
Lat : 45.0391
Lng : -0.558707
0 m

St Géronce Church of Bourg
The St Géronce church has been build into a neogothiq style and inaugurated...Read more
21-23 Rue du 4 Septembre 33710 Bourg
Lat : 45.0397
Lng : -0.560303
0 m

Vineyard and estuary
The vineyard of the Côtes de Bourg represents 3850 hectares of red...Read more
Au Roc 33710 Bourg
Lat : 45.0405
Lng : -0.565495
0 m

Windows onto the estuary, Eyquem in Bayon
This one presents you a compass rose, from the promontory which dominates...Read more
267 Eyquem 33710 Bayon-sur-Gironde
Lat : 45.0472
Lng : -0.598755
0 m

Eglise Notre-Dame de Bayon
Discover this splendid romanesque church, you can see the Virgin stone...Read more
10 Le Bourg-Nord 33710 Bayon-sur-Gironde
Lat : 45.0535
Lng : -0.599914
0 m

Château Falfas
The Château Falfas is an historic monument built in 1612 with a chai...Read more
34 Route de Coudart 33710 Bayon sur Gironde
Lat : 45.0587
Lng : -0.592822
0 m

Château de Côts
Family property since 1930, the vineyards is located around thirty...Read more
105-106 Cots 33710 Bayon-sur-Gironde
Lat : 45.0587
Lng : -0.586052
0 m

St Seurin's Church
This church from the XIth century was rebuilt in 1860 and still have...Read more
Petit 33710 Saint-Seurin-de-Bourg
Lat : 45.0528
Lng : -0.579701
0 m

Château Puy d'Amour
At 2 km from Bourg, on the banks of the Estuary of the Gironde, Château...Read more
Petit 33710 Saint-Seurin-de-Bourg
Lat : 45.0494
Lng : -0.584421
0 m

WINE INFORMATION CENTER
La Maison des Vins de Bourg, situated on the threshold of the old...Read more
Place de l'Éperon 33710 Bourg
Lat : 45.0404
Lng : -0.55526
0 m